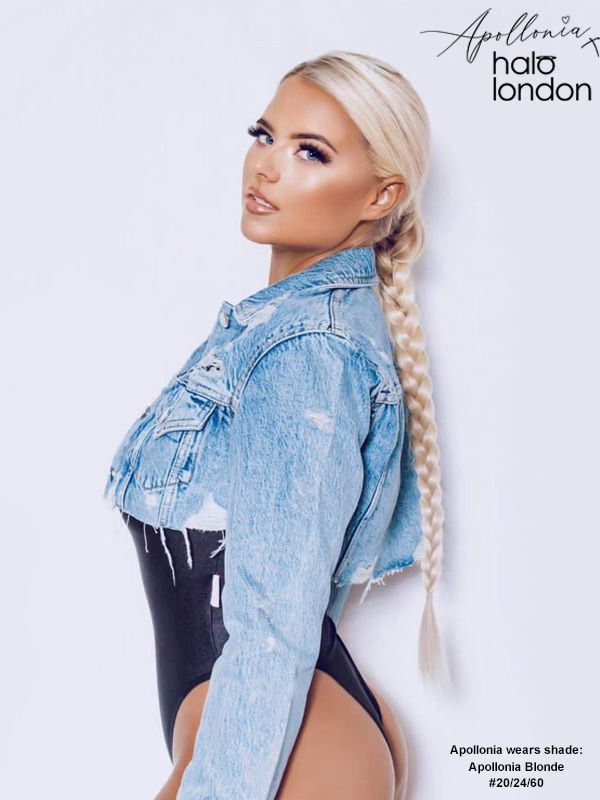 Project A Plait Apollonia Blonde #20/24/60
Length of hair extensions: 24"
Weight of hair: 100g - pure hair weight
24" Project A Plait 100g Ponytail braid hair extensions. 100% Indian Human Remy hair.
Project A Plait ponytail with a difference! By simply braiding this into your own ponytail and securing with a bobble and bobby pin.
At 100g this 24" plait extension is designed to achieve the perfect selfie and WOW factor
**Designed for customers who do not wear professionally fitted extensions**
HOW TO WEAR:
Start by putting your hair into a ponytail - low/mid/high
Put the plait bobble around/ on top of your own bobble.
The plait extension design features 4 sections - 3 to use for your plait and one to wrap around the base to hide the bobbles/hair ties.
Take the 3 long sections and separate from the 4th piece.
Now divide your natural hair into three equally pre-sectioned parts ready to start the plaitting.
Begin to incorporate the ponytail hair into your natural hair, plait hair downwards and secure with a hair tie/bobble at the end.
To finish, wrap the 4th hair section around the base of your own ponytail tightly to secure. Clip it in place with a bobby pin and your ready!

What Our Customers Say
I love Halo Hair Extensions, they are beautiful Remy hair that is thick and long! They add so much length and volume to your hair its unreal. Ive used so many hair extension sites and not one of them have been as safe and well managed as Halo! My extensi
Hair Extensions.
These Remy human hair extensions are the best I have ever tried! Very high quality. Awa - Denmark
"The best I have ever tried!"
The light brown hair extensions are beautiful! I was worried about the colour matching my hair, but there were the perfect colour for my hair! I would definitely by from halo again :) - Hollie, Hereford, UK
Beautiful hair extensions!
Free UK Delivery
Order by 3pm Mon-Fri for next day delivery
Pay Later With Klarna
Available on all orders!
Join Our Newsletter
Sign up to receive email updates on special offers, new products and more.