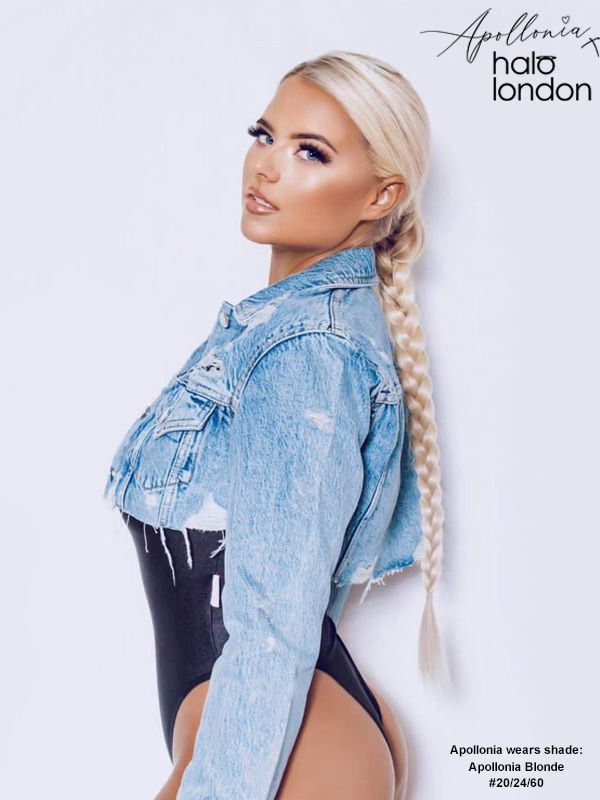 Project A Plait Ash Blonde
Length of hair extensions: 24"
Weight of hair: 100g - pure hair weight
24" Project A Plait 100g Ponytail braid hair extensions. 100% Indian Human Remy hair.
Project A Plait ponytail with a difference! By simply braiding this into your own ponytail and securing with a bobble and bobby pin.
At 100g this 24" plait extension is designed to achieve the perfect selfie and WOW factor
**Designed for customers who do not wear professionally fitted extensions**
HOW TO WEAR:
Start by putting your hair into a ponytail - low/mid/high
Put the plait bobble around/ on top of your own bobble.
The plait extension design features 4 sections - 3 to use for your plait and one to wrap around the base to hide the bobbles/hair ties.
Take the 3 long sections and separate from the 4th piece.
Now divide your natural hair into three equally pre-sectioned parts ready to start the plaitting.
Begin to incorporate the ponytail hair into your natural hair, plait hair downwards and secure with a hair tie/bobble at the end.
To finish, wrap the 4th hair section around the base of your own ponytail tightly to secure. Clip it in place with a bobby pin and your ready!

What Our Customers Say
Beautiful extensions! Michelle - Buckinghamshire, UK
"Beautiful extensions!"
Mine were with me the next day and I absolutely love them! By far the best extensions I've ever purchased! They're very good quality and O am very pleased with them! I would definitely recommend them! And the deluxe pack is definitely the one to get!
:)
Thank you so much for my new hair extensions! They are so soft and don't get knotted by the wind like other sets I have had in the past. They actually feel like real hair! The colour wasn't a 100% match but nothing hair dye won't fix!
Very Happy!
Free UK Delivery
Order by 3pm Mon-Fri for next day delivery
Pay Later With Klarna
Available on all orders!
Join Our Newsletter
Sign up to receive email updates on special offers, new products and more.